At one po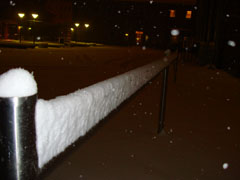 int I was wondering if winter would ever arrive in Oslo.  Well, it did!  The picture on the right was taken in January, and illustrates just how much snow was falling at times!  There were a couple of weekends that were more or less nonstop snow!
Much of the snow has melted, but there are still piles along many roads, and in some parts of town, the sidewalks aren't completely clear yet.  In fact, there was more snow this weekend, but it did not really stick.  –I'm talking about in Oslo, near the center of the city.  The further out you get, the more snow there is.  It's important to remember that the city is situated more or less in a bowl.  The center of the city is located on the Oslofjorden, and the rest of the city rises up around it.  This is also why you can reach ski locations in less than an hour on the trams.
I am more or less ready for spring to arrive, however.  Don't get me wrong, I love snow, but after a while you get tired of the ice and puddles of water.  From what I hear, though, our current weather may continue for a while – maybe into April.  Whatever comes, I'm sure I'll manage.