The edge of Oslo
Last week it was suggested that I travel to Frognerseteren, a location on the Northwestern edge of Oslo.  It is the last stop of Line 1 on the T-bane.  Where I live, there was a tiny bit of snow.  Up at Frognerseteren, well, take a look at the picture below.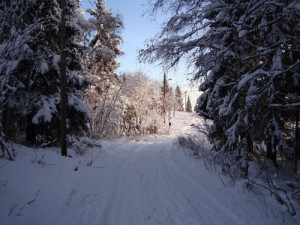 Frognerseteren Area Small.jpgFrognerseteren is a very popular area, especially during weekends when people go skiing and sleding.  There is even a ski lift!  Cross country skiing is also very popular in the area from what I saw while I was up there.  I need to go back as I only headed north of the station, but apparently there are some nicer views of the city a bit south of the station.
A word of advice, though, go early, and get on at a station in the middle of the station.  –I got on at Stortinget and there weren't many seats left.  Lots of people with skis, though!  It's about a 40 minute journey, but worth it.  Here's one of the views I did find looking towards the city.