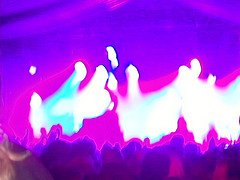 As an American, the way Norwegians party is somewhat different than what we're used to.  While in America, you might just go to a club (or two or three) for the whole night, it's quite a bit different over here.
Remember that alcohol is much more expensive in Norway.  This means that while Oslo isn't a huge city, the prices of alcohol at bars and clubs are on the high side.  –You can easily pay between $7-$10 for a beer, and $13 or more for a mixed drink.  Partying in Oslo is a bit different because of this.  Typically you start your drinking at someone's house or apartment, and you'll probably be buzzed or more by the time you leave – often around midnight – to go to a club.  The clubs are open until 3am (that's when they're required to stop serving alcohol, and although I don't think they have to close then, they probably figure there's no point to stay open if they're not making money).  After that, you may go to an after-party (I'll have to get the spelling for the Norwegian terms).  The after party is much more subdued since people try to be polite to those living around them who may not be up as late, but can last until it's daylight.
When you get invited to a party, there are a couple of main things to remember.  First, bring alcohol – whether you prefer beer, wine, or something else, bring your own drinks.  Even though it's cheaper to buy beer in the grocery stores or wine & sprirts at the Vinmonopolet, it's still not cheap.  –A six pack of beer (3 liters) such as Tuborg, Hansa, or the other brands will still cost you between 100 and 200 Kroners (approximatly $15-$30), so you can imagine how much the booze for 15 people would end up costing if one person had to buy it.  If you do forget the first time, you'll probably be ok since you'll have the foreigner thing going for you, and nobody will say anything, but I doubt you want to make the same mistake twice.  The second thing to remember is that everyone takes off their shoes at the door.  Especially in the winter when it can be rather messy out, you don't want to be tracking mud all over the floor.
I doubt you'll have much trouble finding people to talk to at a party – people are all very polite, although occasionally you'll find people who are embarassed to speak much English (unlike the typical Norwegian who loves to practice), but overall people love to find out more about you.  Also, score bonus points by asking them to help you with pronunciation or to teach you a new word or phrase.  🙂